Our Story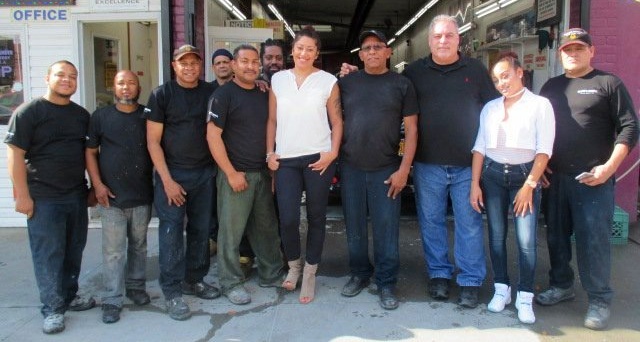 Haven't YOU always wanted to have family in the auto body business? Someone who you could trust, no matter what - a person who would give you exceptional service along with a guarantee of satisfaction? Well now you do.
Rhinelander Auto Body is a family run business and has been operating in that fashion for generations. YOU are Family at Rhinelander Auto Body.
Rewind: The Restaino family had the vision to start an auto collision specialty business in 1938. It was nearly a decade after the cataclysmic Stock Market crash of 1929, Americans were beginning to recover from its dismal effects and the economy was finally on a consistent upswing. Two brothers, Pasquale and Nicholas recognized the pattern of growth and stability, and saw the potential for a new business market.
Automobiles were no longer a luxury item; they were becoming ingrained in the fabric of society. Every household would soon be the proud owner of a shiny new car and inevitably they would need somewhere to go in the unfortunate occurrence of their vehicle being involved in a fender-bender. Seeing so many cars swarming the city's streets, Pasquale and Nicholas moved swiftly and bought a piece of property on Rhinelander Avenue in the mid-1940s, where they built and opened Rhinelander Auto Body.
Driver licensing tests, and road rules and regulations were nowhere near what they are today; consequently people were bumping into each other at an alarming rate. Dings and dents, side-swipes and T-bones -- the ways to wreck a car were growing faster than the auto industry could pump new brands off of the assembly lines. The owners of Studebakers, Buicks, Packards, and Chryslers were lining up to have their modern modes of transport brought back to showroom condition. Business at Rhinelander was booming.
As the years passed and the list of satisfied customers grew Pasquale and Nick were pleased with their accomplishments. So they taught their sons the skill sets they would need to one day take over the family business. Raymond (Nicholas's son) and Pat (son of Pasquale) worked tirelessly to learn, not only, the craftsmanship of being artisans of all aspects the auto body repair business but they were taught how to be respected businessmen. This started with dealing with the customer as if he or she was family.
Fast-forward: The boys grew into men as the business evolved into a local institution, and in the late 1970s Pasquale and Nicholas handed the reigns over to their sons, knowing full well that they would make them proud, and carry on Rhinelander's tradition of unparalleled customer satisfaction and the highest standard of auto body repair work available.
Pat and Raymond took seriously their legacy. They spent years honing the art of auto body repair, combining the traditional methods their fathers had taught them with the state-of-the-art technological advancements that were blitzing the market.
First cousins Pat and Ray Restaino incorporated Rhinelander Auto Body in 1982. They strove to ensure each customer's needs would be met to the utmost degree. Not only are each of the mechanics, auto body and paint artisans, and detailers accustomed to working at their peak performance level, but their customer service representatives are groomed in the same meticulous process. "Treat each client as if he was your father or brother, or she was your mother or sister; be respectful and polite, smile, and make sure every customer is satisfied."
Decades ago, Pasquale and Nicholas Restaino had a dream, to deliver the highest quality service and customer satisfaction available in the auto body business. Their sons worked as a team to keep that dream alive. Pat is since the only member of the original Restaino family who still works day in and day out from the same facility, which his father had labored, keeping this landmark and its reputation alive. Newer measuring equipment has long since replaced rulers, but the same old-fashioned customer service principles hold true, as well as the exemplary attention to detail you'd expect only from someone who is family to give you.
Pat is held to a higher standard - his father's, his uncle's, and cousin's. Put your trust in his lifelong dedication to a set of values that seem to have become a thing of the past. He and his devoted team look forward to the pleasure of providing you with the best possible service available and the utmost in customer satisfaction.